Ministry Of Vape Indonesia, memberikan edukasi mengenai Smoking Reduction Program (SRP), arti dari ministry bagi MOVI adalah edukasi dan pelayanan.
Armed with 8 years of experience developing the premium vape market in Indonesia, giving them extensive knowledge in understanding what consumers need and what products can be offered to the Indonesian market.
As smokers, they know that a viable alternative to cigarettes must offer a great nicotine experience, intuitive design and affordable for the Indonesian market.
We are committed to continue to innovate with an eye on adult smokers and achieve our mission to give a smile and improve the lives of 100 million smokers in Indonesia.
We take that mission very seriously.
VISION

To be the leader of e-cigarettes in Indonesia that uses products from national natural resources that are processed with international technology and science.

MISSION

Providing alternative solutions and unforgettable sensations for consumers with quality hygienic products spread throughout Indonesia.
OUR TECHNOLOGY & FACILITY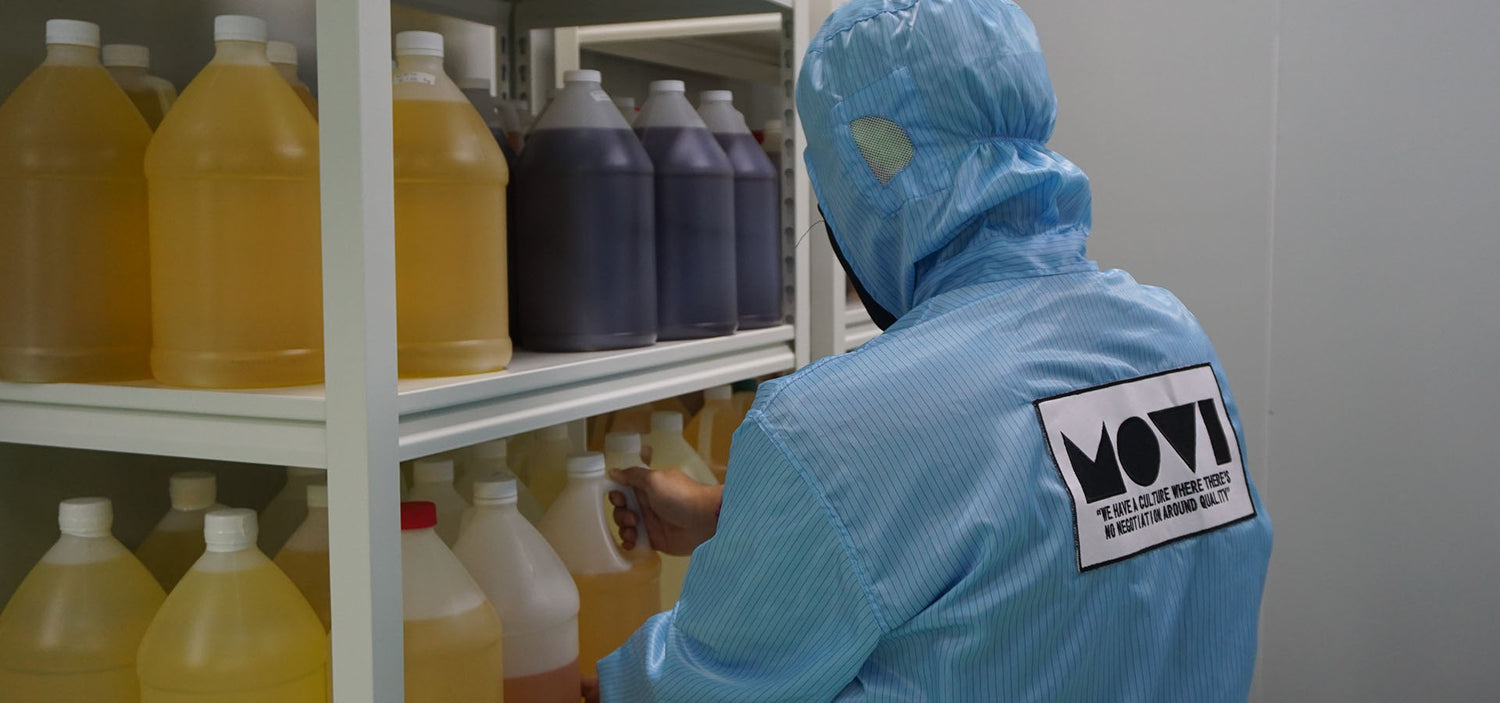 After being in the vape industry for a long time, we have learned a lot. Learning to grow is not only in terms of knowledge. Learn not only to think about yourself but also for others. We can get value when we can also provide value to others.
Lab MOVI yang kami perlihatkan, bukan untuk gaya-gayaan, jauh dari itu. Kami percaya bahwa setiap manusia itu berhak mendapatkan pandangan nyata dan transparansi tentang apa yang masuk ke dalam badan mereka dan mereka berhak untuk mendapatkan kualitas terbaik dan konsistensi dari setiap produk yang keluar dari MOVI.
From us to you as a form of our appreciation and reciprocity for the trust of our customers so far.
TECHNOLOGY
In accordance with the mission of MOVI, SCIENTIFIC. MOVI has made various investments in RnD over the years, investing in facilities and expertise, where MOVI RnD has produced many products protected by 100+ intellectual properties.
MOVI which has been registered at the PCT patent and trademark office, USA, China, Indonesia, Europe and several other countries. MOVI continues to be committed to developing research in the vape industry, not only in nicotine but also in using vaping as a drug/substance delivery system.
HYGIENIC
In this MOVI lab we use solar panels, we utilize solar energy in addition to saving power, and of course solar panels are more environmentally friendly because they do not emit harmful greenhouse gas emissions, such as carbon dioxide.
We pay great attention to all aspects of support, starting from lab uniforms made of static fabric which is specially designed to reduce the flow of electricity to the human body, so that it can reduce the number of damage to the resulting product so it is very safe to use. Anti-static / Electrostatic discharge (ESD) polyester fabric combined with conductive carbon fiber yarn produces a lightweight and dust-resistant material.
Furthermore, the insulating walls and doors are made from a mixture of aluminum, zinc & iron panels in the middle which are coated with anti-burn styrofoam material, so that the building space is very safe in the event of a short circuit, minimizing the occurrence of fires in the walls. While the floor is coated with epoxy. Epoxy-coated concrete floors last longer than those coated with regular paint. Besides being easy to clean, Epoxy floors also meet industry ISO standards.
For air conditioning we use central air conditioning with a Hepa filter. Physically, this factory building is designed similar to a pharmaceutical industry factory. Hepa filters are very commonly used in the pharmaceutical industry. The HEPA filter is one of the important components in the HVAC system (pronounced "eich-fak") "heating, ventilation, and air-conditioning" or often known as air conditioning. HEPA stands for "High Efficiency Particulate Air" or "High Efficiency Particulate Arrestance." HEPA is a filter that is made, tested and certified so that it complies with Institute of Environmental Sciences and Technology (IEST) standards. HEPA functions to filter air from the environment so that it is clean to be channeled into the clean area of ​​the pharmaceutical production room. In an HVAC system, the air is previously filtered through a prefilter, then passes through a filter medium and then filtered through a HEPA filter. Air filtration is carried out in stages to effectively create truly clean room air, like air in the mountains.
From all aspects that MOVI applies to the lab, it's not just cool - cool, but to create good products we also need a good environment, especially from hygiene standards which are very, very important to maintain the quality of the products that MOVI creates.
BEST QUALITY
As far as the eye can see, it is distance that separates us, but no matter how far we are, we certainly have one thing in common, namely quality. That's MOVI, we realize that there are distances that we cannot reach, there are times that we cannot stop but the journey must continue, therefore Quality is the middle point for our meeting. Quality matters are not a game for MOVI, "tasty" is a must, but the goal is always the main thing to produce a good product.
The selection of flavors, essences and manufacturing methods has always been the most important thing that we always pay attention to. One of the clear evidences is that our production Lab that we created meets international pharmaceutical lab standards in order to maintain cleanliness and accuracy in all manufacturing processes from Research and development to packaging. according to the best procedures.
UNIQUE FLAVOR
Unique may also have its own characteristics and be different from others, yes, that's how MOVI is, always present in different "packaging" from each product, if the language is maybe "we're not riding the hype but we create the hype". It has always been a challenge for MOVI to always present a different taste and especially to always present a solution for each product. Maybe from the premise that the product from MOVI is different from other liquid products.